E-IMC technology
The E-IMC solution enables all-electric mould closing. The main advantages? High productivity and energy savings!

You are probably already familiar with IMC (in-mould closure), which allows the part to be closed directly in the mould, without the need for an additional robot to take charge of this closing stage. This system has already proven itself for several years in various sectors (Beauty & Home, Food & Beverage etc.). This sealing solution is known for its productivity and quality. Traditionally, the closure is pneumatic - but for some years now, ERMO has been moving the lines by developing the IMC with an electric closure system. The E-IMC has many advantages.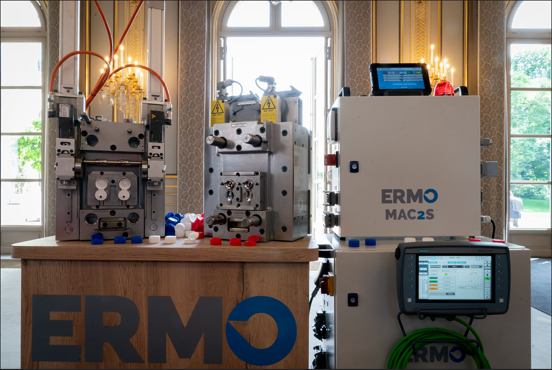 THE E-IMC & ITS ADVANTAGES
Thanks to the fact that no compressed air is used, E-IMC technology consumes very little energy, which means that it is highly efficient. This is an interesting argument for our industries that need to have a more environmentally friendly approach and be "green".
In addition, the electrical system allows for greater precision in closing the mould because, unlike a pneumatic system, it is possible to define the pressure on the part and thus press the plastic part exactly where you want it.
The E-IMC is also known to be a much quieter system.
In terms of maintenance, the E-IMC offers greater flexibility, both for technicians who can intervene on the system remotely, and for press setters who can modify the closing and return trajectory on both sides of the mould, with the simple programming carried out on the control panel.
E-IMC strengths
Energy saving
More ecological
Easier maintenance
Standard part, faster supply and 88% reusable
Very low noise level
Cleaner system
Flexibility due to easy adjustment of the closure
Productivity gain (cycle time halved)