AN ENTITY OF THE ERMO GROUP
ERPA is a French engineering company specialising in automation solutions to optimise your production lines or quality controls. Our company covers a wide range of activities such as pharmaceuticals, automotive, food processing, or small and medium industries.
Our know-how
DESIGN OF SPECIAL MACHINES
AUTOMATION
ASSEMBLY AND FITTING
MECHANICAL AND ELECTRO-TECHNICAL DESIGN
PROGRAMMING
REFURBISHMENT AND RETROFIT
What makes us special
ERPA has recognised expertise in the conception and manufacturing of automation systems and assembly cells such as inspection machines, simple unloading robots, robotic units with protection and conveyors, crimping machines, vision machines, marking machines, etc.
Our team adapts to your requirements and technical constraints and accompanies you from the idea to the realization of your project.
ERPA is also committed to offering you ecological and economical solutions, in particular with its know-how in machine retrofitting, which is more and more in demand these days.
ERPA HIGHLIGHTS
Sharp know-how in industrial processes, and even specifically in robotics in plastics processing
Highly qualified design office
Possibility of testing our customers' designs in the ERMO group for fine-tuning
Post-design solutions: maintenance, assistance and training
Design example
Robotic design in plastics processing
1. PRODUCT TRANSFER
Products are transferred from station to station via the SEPRO S5-25 robot without a handle
2. MARKING
By pneumatic micro-percussion with a marking head and Gravotech control unit for traceability
3. FINAL FLOW CONTROL OF THE ASSEMBLED PRODUCT
By 1 D670 double capillary flow meter from ATEQ France
4. QUALITY CONTROL OF THE ASSEMBLY OPERATIONS
Via the integration of 3 vision sensors IV2, KEYENCE
5. SET-UP AND PROGRAMMING
Via a Siemens 10 inch touch screen allowing a Human Machine Interface
6. WORKPIECE ORIENTATION
Integration of an MCPI type T50 cam indexing table with a multi-track rotary joint
7. FEEDING OF PLASTIC PRODUCTS
Integration of a VIBRA-TECH vibrating bowl and chute assembly
SEE THE VIDEO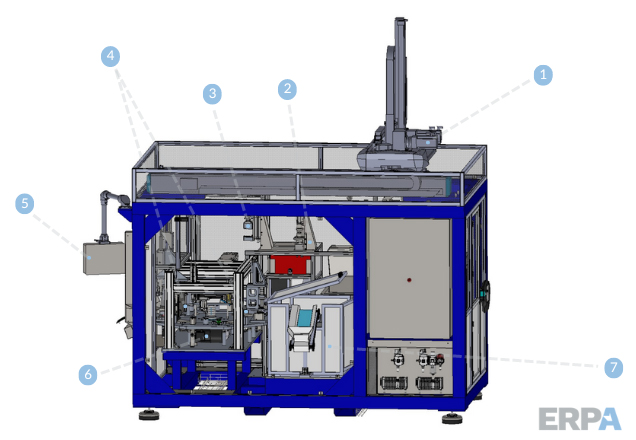 OUR ENGAGEMENTS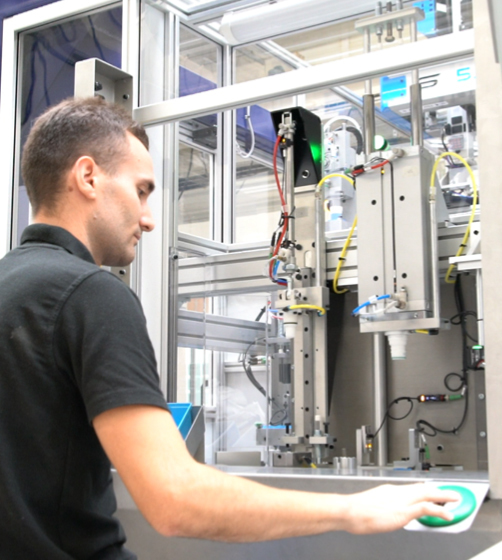 Your project, our know-how. The key to success.
LISTENING AND COMMUNICATION
To be attentive to your expressed needs and to respond with clear and precise information
Take into account your demands and provide a satisfactory response within a reasonable leadtime
Dedicated project manager to follow up
Build a strong and long term relationship with you
QUALITY
Always offer you the best solutions, and the most ecological and economical ones
Be proactive about the legal compliances
Kick off meeting at the beginning and survey customer at the end
Respect delivery time
Ensure engineering feasibility at estimating stage
Continuously improve our services
SERVICE
To ensure continuity of our services included the after-sales
Search for automation solutions to optimize your process
Response time to your requests within maximum 48 hours
Engineering to retrofit your tools and equipment
OUR REFREENCES