MAC2S, maintenance solution 4.0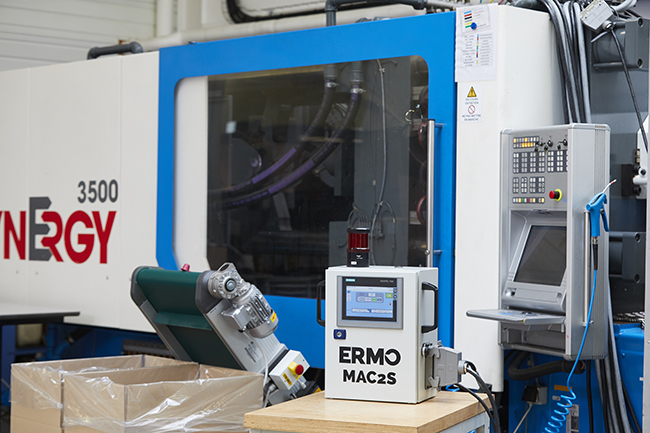 Launched on the market in 2019, the MAC2S (Mold Alignment Continuous Safety System) is an ERMO patented system that controls the alignment of the mould. The objective? To improve the productivity of your tooling and increase the life of the mould.
Equipped with 2 Mac2S boxes including sensors to check the vertical alignment of the mould (sensitivity to the micron), the MAC2S is an ingenious preventive maintenance device.
Thanks to its control boxes, the MAC2S is able to alert you in real time (via e-mail or audible alarm) of a potential misalignment of the mould. The plastic injection tooling can even be programmed to stop if the misalignment exceeds the chosen tolerance threshold.
The MAC2S sensors are removable and can be placed on other moulds, allowing a single piece of maintenance equipment for multiple moulds.
As preventive maintenance equipment, the MAC2S also helps to alert to wear and tear or even degradation of the closing areas and mould guides or mould centres.
Technical specifications
Dimensions: 60 x 57 x 22 cm
Weight: 24 kg
Power supply: from 100 V to 240 V (US power supply compatible), 2A, i.e. 460 VA (Watt)
PC controller connection: network or wifi (4G/5G possible as an option)
Connection between MAC2S and IMM (plastic injection machine) : Europmap 67
Industrial screen: tablet (shock and oil resistant and waterproof)
Languages: French, English
Strong points
Compatibility on all moulds
Control of the parting line
EU67 connection: system compatible with robot and second injection unit
Easy to set up
Possibility of storing and consulting mould documents (maintenance booklet, PDF connection, etc.).
Display of the MAC2S application possible on various media: tablet, smartphone or other office screen
Possibility of remote updates by ERMO (multi-language project updates)
Co-design possible
About ERMO
Created in 1979, Ermo - whose acronym stands for "Etudes Réalisations de Moules et Outillages" - is a leader in the manufacture of high precision injection moulds. Recognised for its know-how and technologies such as IMA (in mould labelling), IMC (in mould closing), conformal cooling, localised compression injection, etc., Ermo has more than 10 patented solutions. Firmly focused on quality and the environment, ERMO has also developed injection moulds with an all-electric closing system (E-IMC or E-IMA).
Labelled as an "innovative company", ERMO devotes a significant amount of time to R&D investments (+5% per year).
ERMO is present in various sectors of activity: beauty and home (cosmetics), food & beverage (food), medical and thin wall (thin wall). In France and abroad with the opening of ERMO INDIA and ERMO AMERICA (in Mexico).