30/09/2016
Join us at K Show 2016 | Tec Pac Mold Making News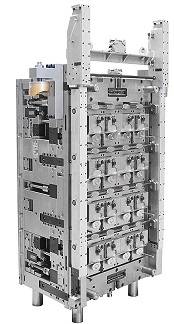 Join us at K 2016! Hereunder, some information about our latest news. High technology, new challenge and high services.
High Services at Your Disposal
We have a qualification lab equipped with laser machine for dimensional control and all equipment enable to meet parts specifications required by the customer.
For export project, we have an agreement with the BPI (French Bank) to provide finance not only on mould but the complete cell.
We can provide system integration at ERMO as well as turnkey system included mould, IMM (Injection Moulding Machine) and Automation.
Tourniquet: Bi-material/colour by Inner Rotation Core
Among our solution, we provide multiple patented technologies such as Tourniquet.
What is the main principle of this technology? Bi- material/colour by inner rotation core.
Moreover, the cycle time is shorter than core back technology with a small additional charge in the amount of: + 5 - 7 %.
What are the main features of this solution?
Higher cavitation
Faster cycle
Better part quality (no bleeding)
Smart solution
Patented Technology
IMA Technology: In Mould Assembly
This technology has been developed by ERMO in-house and it is covered by several patents.
What is it the main benefit of this solution? The possibility to assemble 2 or more different components assembled in a single mold with significant capex investment.
In the traditional procedure in fact, moulding was performed in two stages followed by a final assembly stage to produce the plastic part. ERMO has implemented a single stage procedure using IMA technology which enables the user to assemble 2 or more different parts in a single mould.
The main features?
Only one IMM
No assembling machine
Pairing cavity by cavity
No need part positioning
Space saving
Improve Quality control
PTI Cooperation: outstanding turnkey solution for single-serving caps
With the explosive growth of single-serve beverage and food capsules, ERMO, expert in the design and manufacture of high precision injection moulds for the plastics industry, and PTI - Plastic Technologies, Inc., a global leader in plastic package development, have partnered to provide brand owners with a turnkey commercialization pathway. The significant technical knowledge both companies have in this area will help improve speed-to-market and drive commercial success.
Result of this cooperation:
Homogeneous part weight and thickness
PET Crystal transparency and injection also with PET IV 8
Excellent repeatability of process
No material degradation
Low energy consumption