30/09/2016
Join us at K Show 2016 | Lighting Mold Making News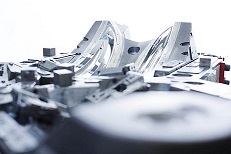 High Standards All Over the World
Customer satisfaction is our main goal. How can we reach it? Through a common, international and ambitious project.
Our processes, design, production and quality are identical all over the world: from product concept to manufacturing, from mould try-out to final installation.
ERMO commitment is to support customers with technical excellence and after-sale maintenance. This is why we have dedicated people and resources to monitor and improve our Quality with perseverance and determination on a daily basis.
FLEXflow Technology: the Electric Servo Driven Valve Gate
From our expertise in the mold making world and the high technological solution of FLEXflow by HRSflow, excellent results have been obtained in the lighting field for the automotive sector.
At K Show 2016 you will be able to see a live demonstration of a head lens being moulded where the mold will be supplied by ERMO and the Hot Runner System by HRSflow. The hot runner incorporates FLEXflow technology: the new HRSflow electrical servo driven valve gate. Thanks to this combination the thickness of the lens wall is reduced from 2.5 mm to 1.8 mm and the weight from 450 g to 350 g.
Multi color/material molds
The main feature of such molds is the simultaneous injection of more than one color. Moreover, several chemically-compatibile materials such as PC, PMM, PC-ABS, can be injected simultaneously.
Our precise molding solution let you to reach high performance of the parts.